Bullying Prevention Month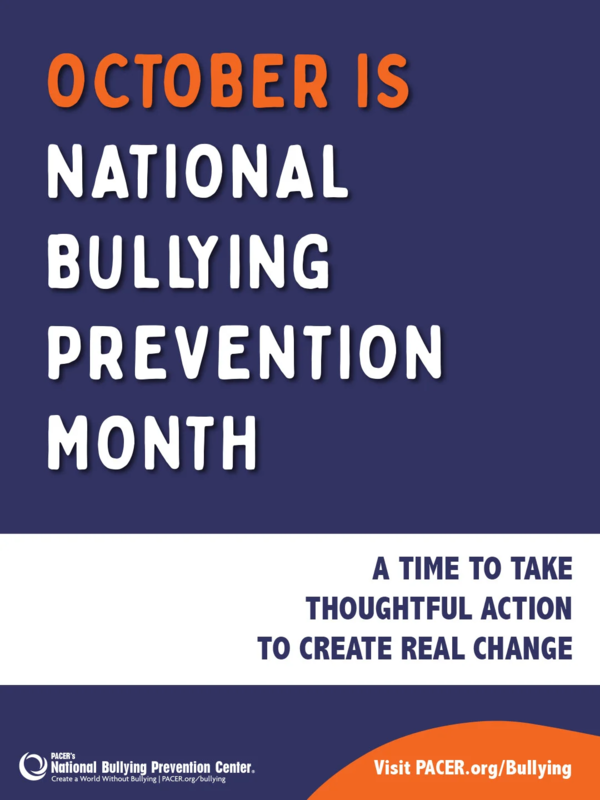 Golden West is celebrating National Bullying Prevention Month to help teach our students kindness, inclusion, and empathy in hopes of creating a world without bullying.
This month, there will be morning announcements reviewing what bullying is and how students can be upstanders and stand up for what is right. Students will also be finishing a bully prevention pledge during the 1st week of October in their 1st period classes that asks them to complete one of the following sentences:
"I will stand up for others by..."
"I will show kindness by..."
"I will prevent bullying by..."
"I will support my peers by..."
The 3rd week of October will include a poster making campaign at lunch, where students can create posters to increase the awareness of bullying prevention. There will also be a large pledge poster students can sign to end bullying.
On Wednesday, October 20th, everyone is asked to Wear Blue in recognition of Bullying Prevention Month.
The 4th week of October, students will be given a Kindness Checklist where they are challenged to complete a variety of takes to spread kindness and positivity to others. Students who can complete the whole checklist will receive special recognition.
At home you can help us put an end to bullying by talking about it with your child, encouraging them to be kind to everyone they meet and emphasizing the importance of speaking up whenever they see bullying happen.
---